Big Book of Benefits and Mental Health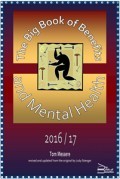 The Big Book has updated user-friendly information, tips, tactics and sample forms to support anyone living with mental health problems and those who advise them, in the ever changing world of "welfare reforms". Written in an engaging, informal style with many illustrations and copious examples, this book aims to make complex information about benefits more accessible and digestible, while retaining the clarity and accuracy needed to ensure its usefulness.
New features for this edition include:
Welfare reform overview - updated tables of changes, overview, news and commentary including the new £12 billion cuts and changes at the top.
Personal independence payment - top ten tips through the claims process, sample PIP2 forms with updated page by page guidance, NEW: surviving the switch to PIP, new supporting evidence and PIP caselaw;
Universal credit - revised rollout plans, top tips for common issues (based on pathfinder areas experience), the new Digital Service, updated calculation sheets, surplus earnings, UC disability and pensioner gaps, the work allowance cuts and the "two child" policy.
Tax Credits: updates, of two rabbits and a hat, cuts ahead - and limited protections - on transfer to UC, the "two child" policy.
Employment and support allowance - the popular page by page guidance and examples ESA50 / UC50 mental health and physical pages, waiting days, relationship with UC, revised caselaw, future changes.
Means tested benefits and Pension Credit: revised and updated, relationship with UC.
Social Fund - latest news on the devolved and local replacement schemes.
Paying for housing - updated for bedroom tax arguments, general HB changes and mortgage interest changes, costs and barriers when moving. and futures and sanctions figures.
Options for work: how are options for work looking now – old and new systems, protecting entitlements if things don't work out, new work conditionality, changes to the Work Programme.
Key Info
30 Micawber Street
London
N1 7TBUnited Kingdom
Features
Products
Location:
Contact Big Book of Benefits and Mental Health