Global Food Banking Network

With nearly 800 million people suffering from hunger worldwide we believe food banks are an essential part of the solution for alleviating hunger and improving food security. Through training, sharing of best practices, building relationships with the global food and grocery industry, leveraging our resources, and bringing together a global community, GFN is ensuring more communities are using the powerful solution of food banking to feed the hungry.
GFN is dedicated to helping existing food bank systems broaden their operations, increase impact, and deliver more food to more hungry people. To do this GFN establishes and maintains strong partnerships with the global grocery products industry, the broader NGO community, global philanthropic resources, and others focused on reducing hunger and improving nutrition. We leverage these partnerships to deliver resources that expand the reach and improve the effectiveness of existing food bank systems.
In these projects, GFN provides more limited project management, supporting efforts to bring scale to food banks or food bank networks, new or more established. The goal of these projects is to expand the resources available to food banks in order to allow them to reach more hungry people.
In a typical Capacity Building Project, GFN provides training materials to bolster the food bank's knowledge and gives advice drawing on our expertise in food banking. GFN staff members may occasionally participate in various meetings and planning discussions remotely. The Network Development Team may also make visits to assist with key deliberations and/or meetings as needed. In-country champions and key leaders of the food bank systems are also encouraged to attend the Food Bank Leadership Institute to equip them with the necessary knowledge to assist with GFN's work in their country.
Image Gallery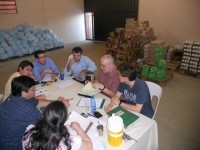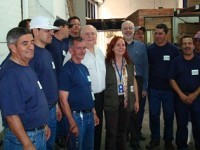 Key Info
203 N. LaSalle Street
Suite 1900
Chicago, IL 60601
USA
Features
Products
Location:
Contact Global Food Banking Network