NHS North East Essex CCG

Through clinical commissioning, primary care clinicians will take the lead in working with patients and health experts to decide what range of services are needed for their local population. With the support of partner organisations, such as the County Council and local councils, the Clinical Commissioning Group must make sure that the way that we describe what health services need to deliver in terms of quality, patient experience and health outcomes allows provider organisations to deliver the service in the most efficient and cost effective way, so that we can be accountable to the Secretary of State and our local population for how we spend our limited resources.
Clinicians can use their knowledge of services and their contact with patients to identify where providers need to be supported and challenged on quality and outcomes. They can help bring together leaders from across health and social care to agree priorities and design more integrated services. The Clinical Commissioning Group then has to buy the health services it needs. This is called procurement. One of the other key functions of the NHS North East Essex CCG is to monitor the contracts for health services that have been set up to ensure that providers are meeting the quality standards and activity levels that have been set.
This whole series of events is called the Commissioning Cycle, as in the diagram.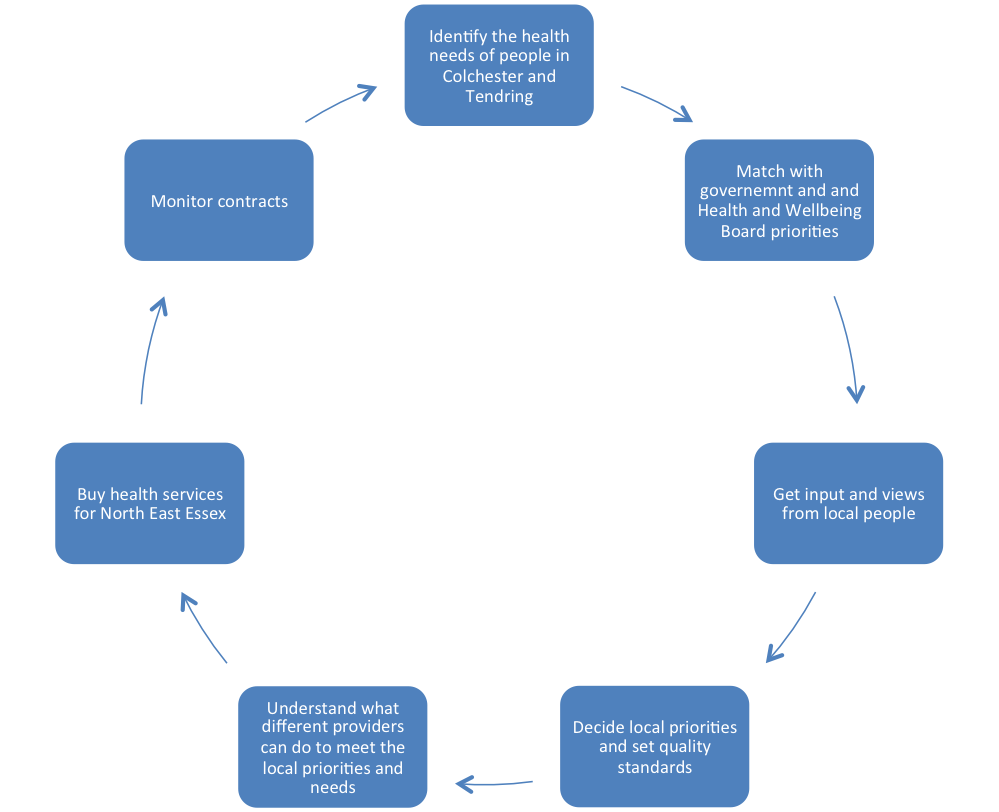 ---
Key Info
NHS North East Essex CCG
Primary Care Centre
Turner Road
Colchester
Essex
CO4 5JRUnited Kingdom
Features
Products
Location:
Contact NHS North East Essex CCG